Event Booking Information
Look Book
Technical Information
Downstairs Auditorium Layout. Email us for layout of the upstairs Auditorium. Downstairs can seat 670 people. Upstairs can seat 165 people.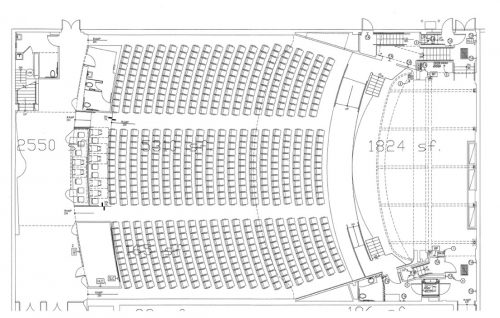 Both auditoriums have a Dolby Digital/ QSC surround sound system. Two wired microphones, stands, and general spot lighting are included with any rental. Clients are welcome to bring additional and/or different microphones for their event. The Texas does not provide a board operator for live music rentals or panel discussions, but we are happy to put you in touch with one. Ask us about additional tech capabilities which we can provide. For Touring promoter shows please see our PDF tech pack for full capabilities.
How to Book your Event
Email info@texastheatre.com for local film screening rentals, birthday parties, fundraisers, tours, weddings & "misc" events.
Email ashton@aviationcinemas.com for corporate events, brand promotions, or alcohol promotions.
Email barak@aviationcinemas.com if you are a promoter for touring Concerts, Podcasts or comedy.
A deposit of 1/2 the total rental cost is required to hold the date. The deposit is non-refundable within 30 days of the event. The balance is due one week prior to the event.
All rental blocks include both set-up and tear-down time. Please keep this in mind when booking.
All events must complete an event memo.
Booking also requires a completed credit card authorization form in lieu of a damage deposit. The card will not be charged for any portion of the booked rental but may be charged for damages or overage time.
Payments may be made by check, ACH, cash, money order, cashier's cheque, or card.
Ticketing Information & Policies
Clients are welcome to sell their own tickets.
The rental party is solely responsible for any and all promotion of the event.
Example Rates
Movie screening rentals are booked in blocks of two hours each. 
Email us
for more details and more detailed rate info for both the upstairs and downstairs auditorium, as well as longer time blocks.
These rates are for private use of the auditorium and include basic A/V support; rates for live events are available on request. For screening events, we will have our projectionist on hand. For all events, we have a manager on duty. If you would like to have the bar open during your event, there is an hourly fee. The fee can be reduced or waived at the theatre's discretion.
Catering
Any caterer may provide food for an event; the Texas does not have an approved list. All beverages – hard and soft – must be purchased through the theatre.
Multiple types of bar set-up – open, cash, ticket, etc – are available. With any bar setup, the only alcohol for which you are charged is that served and any special orders (for example, a specific bubbly). In most cases we can accommodate requests for specific beverages (hard or soft) with two-to-three weeks' notice.
Valet
Patrons may use any valet provider they choose.
Directions
The Texas Theatre is located at 231 West Jefferson Blvd, which is along the historic Jefferson Blvd shopping district and 3 blocks from the Bishop Arts District in Oak Cliff.
Click here for Driving Directions
.
Parking
FREE Parking is available along Jefferson Blvd after 4pm (meters before 4pm are 25 cents/hour). FREE Parking is available at the Texas Theatre lot adjacent to the Bank of Texas, at the corner of Madison Ave and Centre St.
Click here for Parking Map
.
Outdoor Cinema
Aviation Cinemas can bring the movie theatre experience to an outdoor space near you!
We offer different projectors and screens to fit your event, space, and budget.
Examples of available packages include:
Package 1 – 16ft Wide Screen + 5K Lumen Projector + 2 Speakers and/or Radio Transmitter
Package 2 – 16ft Wide Screen + 12K Lumen Projector + 2 Speakers and/or Radio Transmitter
Package 3 – 20ft Wide Screen + 12K Lumen Projector + 2 Speakers and/or Radio Transmitter
Package 4 – 20ft Wide Screen + DCP 15K Lumen Projector + 2 Speakers and/or Radio Transmitter
To enquire about holding an outdoor cinema event, please email barak@aviationcinemas.com.
Filmmaker Services
4 Wall Screenings
Looking for a theatrical screening venue for your indie film? The Texas Theatre can help. We offer flexible 4-wall options for either a single show or a week-long engagement. Contact us at info@texastheatre.com for single shows.
Contact Barak at barak@aviationcinemas.com for multi-show engagement and rates.
Post Production/Color Correction Session Rentals
Want to see how your color/ FX and sound play in a theatrical setting? We have a 38-foot-wide movie screen on which to do compositing/ visual fx or color correction sessions. The Texas Theatre is available Monday-Friday, 9am-5pm for session rentals. 2K/ 4K QT or DCP Playback with 5.1/7.1 Dolby Sound Testing available.
Contact Barak at barak@aviationcinemas.com to book your session.
Dailies Screenings
The Texas Theatre offers great rates for producers and filmmakers looking to screen dailies or progress cuts for your private audience during the week Monday-Friday, 9am-5pm. We can project 2K, 4K , QT, Blu-Ray, or direct from your computer.
16mm / 35mm (positive) dailies screenings available as well.
Contact Barak at barak@aviationcinemas.com
Cast/Crew Parties
Book a 2-3 hour block to show your film and invite your cast/crew/friends. Best rates are available during weekday evenings or late night. Concession and bar service available. Contact info@texastheatre.com.
DCP Services